See Courses:
---
SPA 111 Spanish Language I
SPA 111 Spanish Language I is for beginning students acquiring the Spanish language. The course is context and culturally focused. From this focus students will develop communicative skills as well as gain an understanding of community and culture by making comparisons and connections. This class is highly interactive and good fun.
Fall 2011 this class will meet MW 12:00-12:50.
The text and workbook Vívelo will be used for the course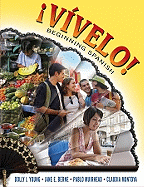 ---
SPA 211 Spanish Language III for Non-Native Speakers
SPA 211 Spanish Language III for non-native speakers is designed for students acquiring Spanish as a second (3rd, 4th) language. This course is the third in the sequence SPA 111, SPA 112, SPA 211. Prerequisite is SPA 112 or proper placement in the SCAPE test.
Fall 2011: Tuesdays 9:00-11:50
We will use Portafolios Volume 2 text and workbook for this class as well as authentic sources which deal with current events in the Spanish speaking world.
---
SPA 211H Spanish Language III for Heritage Spanish Speakers
SPA 211 for Heritage Speakers is designed for Spanish/English bilingual students who learned Spanish in their home environment. Students will develop skills in writing and speaking in Spanish for specific audiences and purposes.
The text and workbook for this course will be:
Sí se puede, María Carriera
·
Publisher:
Heinle; 001 edition (October 12, 2007)
·
ISBN-13:
978-0618061365
Sí se puede workbook
·
Publisher:
Heinle; 001 edition (October 12, 2007)
---
SPA 231 Advanced Spanish Conversation
Students will advance Spanish conversational skills and grammatical precision in this content based course. Authentic texts and video from Spanish language news sources will be used to explore current events in Latin America and Spain.
In addition to the using authentic web sources we will use the following text for this course:
Practice Makes Perfect: Advanced Spanish Grammar, Rogelio Vallecillos
---
SPA 275 Spanish for Educators
This course will focus on communicating with Spanish speaking parents and students in an educational environment. Prerequisite SPA 102 or adequate score on SCAPE placement test. Scenarios and role-playing will be used to simulate the school environment.
This course will meet on Thursdays from 6:00PM - 08:00PM. The class begins 09/22/2011 and ends 11/03/2011.